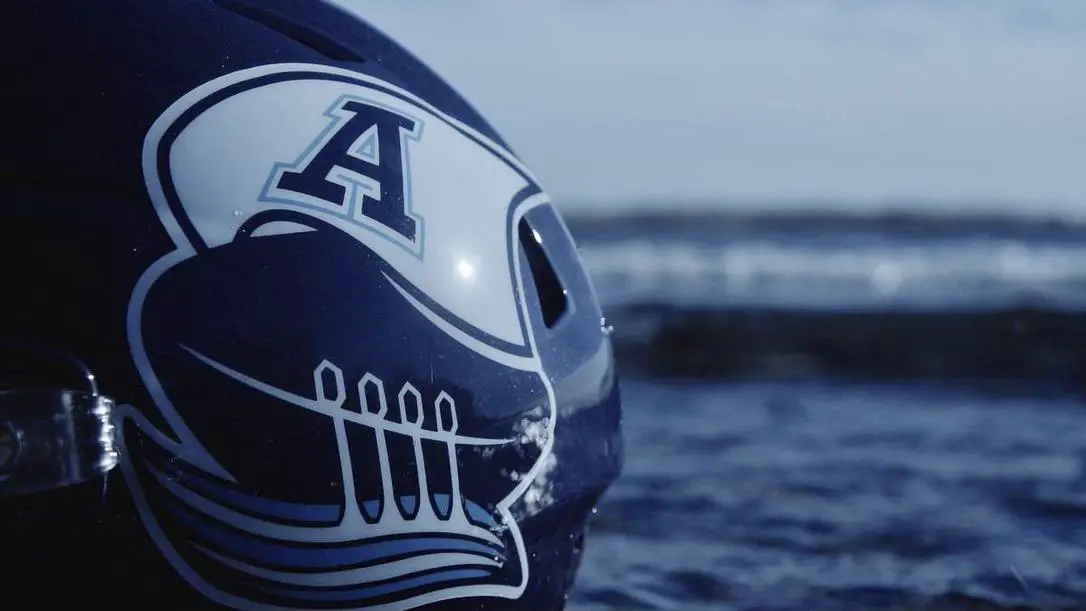 The Toronto Argonauts are days away from starting an abbreviated training camp on July 10th. The Double Blue will have less than a month to prepare for their regular-season opener, Saturday, August 7th, on the road against the Calgary Stampeders. 

Roster turnover for pro sports teams is fairly commonplace, particularly for losing teams. Still, when it comes to the Toronto Argonauts, no franchise has undergone the number of changes that they've had since the last time they took the field. A big factor in the transformation is an obvious one, the two-year delay in play caused by the pandemic. But the major waves of change for the Boatmen started way before their last season ended, and the ripples have carried on even in recent days. 

The last time we see the Argos, they were coming off a 4-14 season. At the tail end of Toronto's dismal 2019 campaign, Argos legend Michael "Pinball" Clemons was brought on to replace Jim Popp as the teams' general manager. Working closely with Toronto VP of player personnel John Murphy, they have adroitly reshaped the entire coaching staff, team philosophy, and overall roster. 

'The Boat is Back," but the franchise has a lot of new sailors preparing to navigate the waters of a brand new season, one unlike any CFL season that has come before.

Let's take an in-depth view of the new-look Argos on offense. And it all starts with a new coaching staff that has been lying in wait for nearly two years. 

Head Coach: Ryan Dinwiddie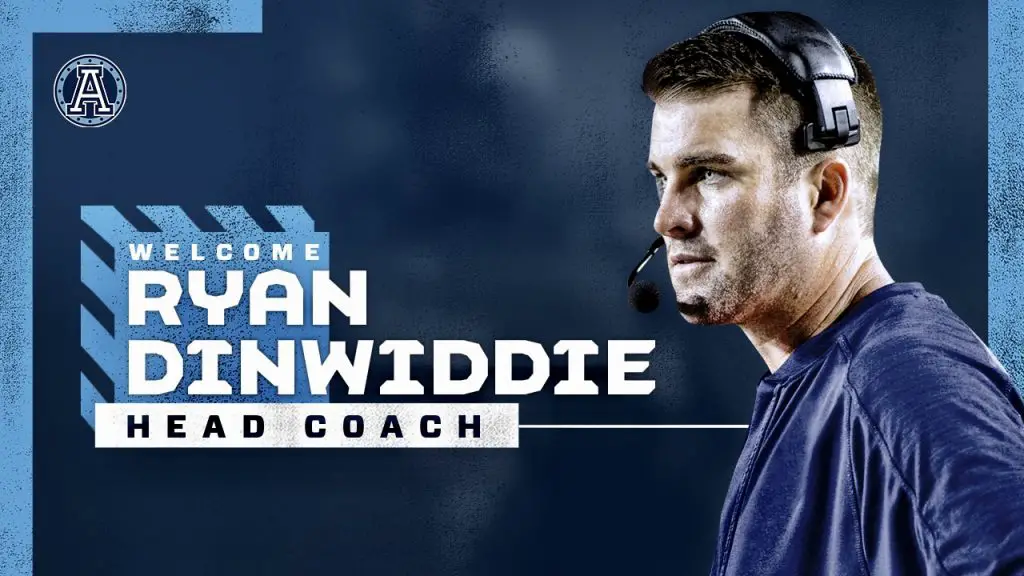 Ryan Dinwiddie became the 45th head coach in Toronto Argonauts history on December 12th, 2019. The former CFL quarterback has been one of the Canadian Game's top assistant coaches for the last several years. 

As Quarterbacks coach with the Calgary Stampeders from 2016-2019, Calgary reached the Grey Cup three times during that span, winning it all in 2018. Superstar Quarterback Bo Levi Mitchell would be named the CFL's Most Outstanding Player twice in those four seasons working with Dinwiddie. 

In 2018, in the midst of his run with Calgary, Dinwiddie turned down an offer from the Argos to become their offensive coordinator. A year later, he is named Toronto's head coach instead. Dinwiddie electing to stick with the Stamps turned out to be a wise career choice. The Argos hope that their decision to give Dinwiddie full reign over their entire franchise is also the right call. 

On the day of his hiring, Dinwiddie told the media that even though the plan was to hire an experienced offensive coordinator on his staff, he'd play a big role in weekly offensive game planning and playcalling. 

Dinwiddie, with Montreal, where he ascended quickly from a running backs coach to play-calling duties, the Alouettes had one of the league's best-running attacks with Tyrell Sutton leading the CFL in rushing back in 2015. So although Dinwiddie is known for his work in the passing game, he has a track record of having a balanced attack on offense.
In the last season, Toronto played, they ranked in the middle of the pack in rushing with 5.1 yards per carry. Negative game scripts and low volume saw the Argos finish dead last in rushing attempts (260) and touchdowns (5). The focus will be on the Argos passing attack, but the team will need to produce better numbers on the ground than they did in 2019.

Offensive Coordinator & Quarterbacks Coach: Jarious Jackson
Jarious Jackson, the former Notre Dame NFL and CFL quarterback, has put together a stellar coaching resume since his playing days ended in 2013. Jackson joins the Argos after spending two years as the offensive coordinator and quarterbacks coach of the BC Lions. 

Leading quarterbacks and passing games is something Jackson has done for quite some time in the CFL. With Saskatchewan in 2016-2017 and Edmonton in 2014-2015. With Edmonton, Jackson helped guide QB Michael Reilly and EE to a 2015 Grey Cup Championship. Both Jackson and Dinwiddie have experience as former signal-callers in Canada, so the paring of the two seems like a natural fit and a good combination to guide Toronto's quarterbacks. 

Passing Game Coordinator/Wide Receivers Coach: Markus Howell
Joining Jarious Jackson from the BC Lions staff is longtime CFL receiver and coach Markus Howell. Although the Lions struggled to a 5-13 finish in 2019, it's worth noting that two of the best players on their team were wide receivers coached by Howell.

BC's Most Outstanding Player in 2019 was WR Bryan Burnham, who caught a career-high 100 receptions for 1,492 receiving yards and 11 touchdowns en route to being named a CFL All-Star. 

Lemar Durant also broke out for the Leos' under Howell's tutelage in 2019. Durant set career highs in receptions (57), yards (810), and touchdowns (5) in only 15 games on his way to being voted the team's most outstanding Canadian.  
With the Toronto Argonauts, Howell is reuniting with former BC Lion Ricky Collins Jr, who recently came out of retirement to join the Double Blue after breaking out as a star for Edmonton in 2019. 

Offensive Line Coach: Stephen McAdoo
One of the very best veteran CFL assistant coaches, "Coach Mac" is back with the Argos after helping lead them to a Grey Cup Championship back in 2012. McAdoo also won a Grey Cup as offensive coordinator with Edmonton in 2015. 
McAdoo arrives in Toronto after leading the Saskatchewan Roughriders offense for the last four seasons as offensive coordinator and assistant head coach. In 2019, the west leading Riders went 13-5 and had one of the CFL's best offensive attacks. McAdoo's wealth of knowledge and experience should be an asset to first-time head coach Ryan Dinwiddie's staff.

Running Backs Coach: Fred Reid
The least experienced member of the Argonauts offensive staff has quite the resume as a former SEC and CFL star running back and returner. Fred Reid graduated out of Mississippi State as the SEC's all-time leading kick returner. 

In the CFL, Fred Reid is Winnipeg's sixth-leading rusher of all time. With the Blue Bombers, Reid had one of the best individual performances by a CFL RB ever when he rushed for 260 yards against the BC Lions back in 2009. Reid wasn't a one-hit-wonder, as evidenced by his performance a year later, where he led the CFL in rushing. 

Reid has been the head coach of Middleton high school in Tampa, Florida, for the last five years, but the Argos have drawn him back to the CFL to lend his expertise to their running backs. 

Toronto Argonauts Offense
Quarterbacks: Nick Arbuckle, McLeod Bethel-Thompson, Antonio Pipkin, Nick Tiano & Kenji Bahar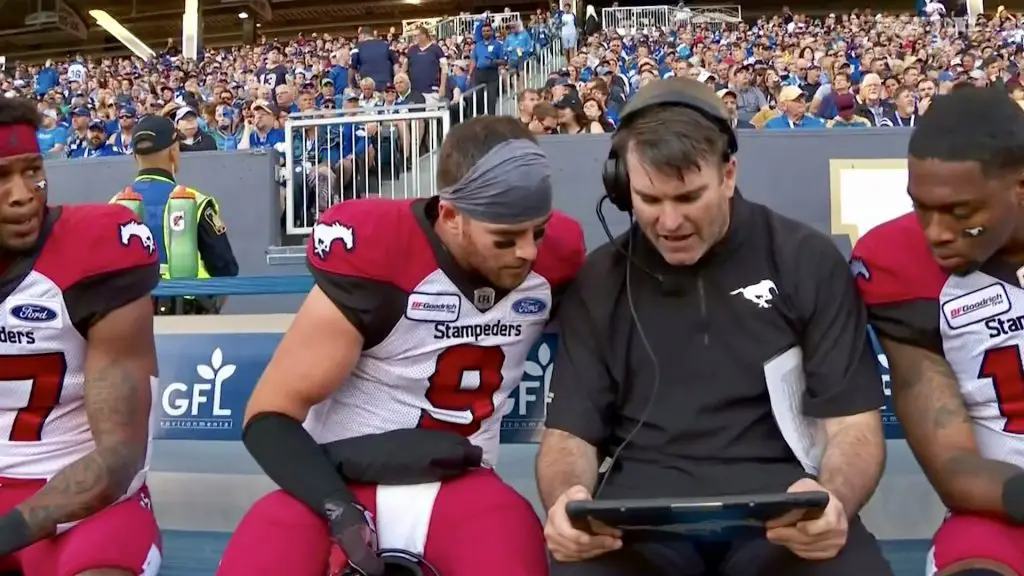 Despite the Toronto Argonauts looking like the most improved team in the CFL on paper. The truth is that the team's hopes and aspirations fall squarely on the shoulders of the now-former Calgary Stampeders tandem of Ryan Dinwiddie and his hand-picked quarterback Nick Arbuckle.

Dinwiddie helped Arbuckle develop into his new role as the Argos potential starting signal-caller in 2021. Nick Arbuckle has spent his entire CFL career since 2016 with Ryan Dinwiddie, learning his system inside and out. And in 2019, Arbuckle was finally given an extended opportunity to play when Bo Levi Mitchell went down to injury. 

Starting seven games in place of Mitchell with Dinwiddie's guidance, Arbuckle completed 73 percent of his passes for 2,103 yards and 11 touchdowns. He also added four scores on the ground. In that brief sample size, Arbuckle showed that he had the chops to play in the league, but the real question is can Arbuckle prove himself to be an elite quarterback over time.

Enter McLeod Bethel-Thompson. The CFL's leading touchdown passer in 2019 returns to the Double Blue in 2021. And MBT's return is arguably the smartest move that Toronto has made this offseason. The Argos are wisely hedging their bets on Arbuckle and giving themselves a great insurance policy for this coming season.

Toronto is not looking to rebuild. As evidenced by all of their big-name signings of veteran star players.  The Argos' clear intention is to get back to being a contender immediately. So if Arbuckle struggles early on and is not ready to handle his newly founded role, Bethel-Thompson will be ready to step up and give the Argos a chance to win.

Beyond the top two quarterbacks on the Argos roster. The player with the best chance to stick is Antonio Pipkin. The former Montreal Alouettes starter has the most experience in this group. 

Running Backs: John White IV, Bishop Sankey, AJ Ouelette, Kenneth Dixon,  Matthew Colburn & Greg McCrae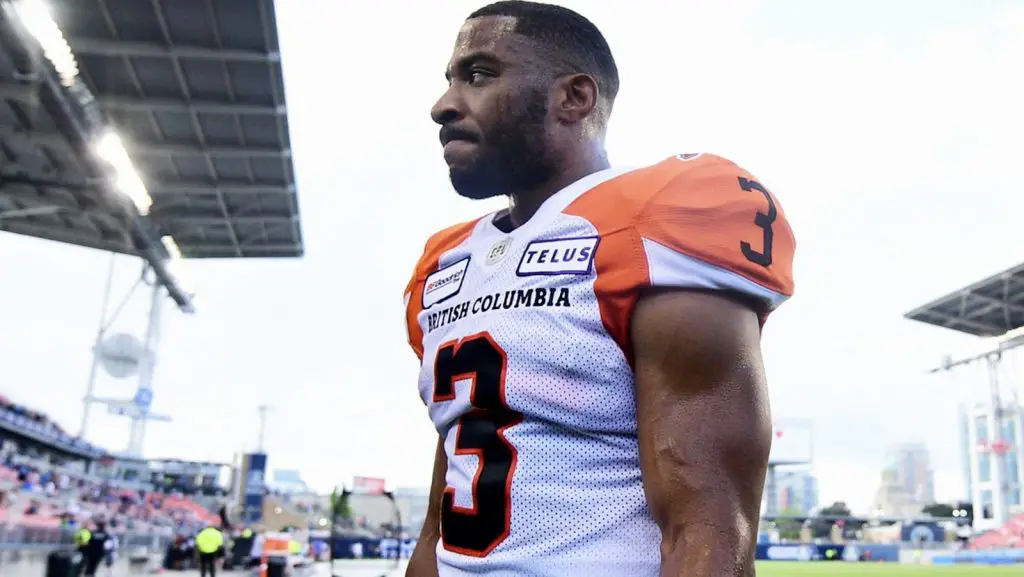 John White comes over from BC and is the most experienced CFL runner on Toronto's roster. White IV, a first-time 1,000-yard rusher in 2019, who also had 46 receptions, has experience with newly minted Argos OC Jarious Jackson. White's knowledge of the offense and his versatility as a runner/receiver should be an asset for Toronto. 

AJ Oulette came on late for the Argos, starting two late games in the 2019 season, averaging 4.9 yards per run. Oulette could factor into the teams' rotation. He will have to fend off three different runners on the roster with NFL experience.

Bishop Sankey, 30 years old, the former second-round pick of the Tennessee Titans, certainly has the resume and background to compete. The question is, does he have a second life in him as a CFL rookie. For running backs up north and abroad, the gas tank starts to run out quickly; perhaps Sankey's time off the field has given him the rest needed to have one last run.  

Kenneth Dixon,27,  the former 4th round pick of the Baltimore Ravens, has always had the size (228) and tackle-breaking ability in his favor. The problem for him his entire career has been durability. The CFL could breathe new life into his once-promising career, but it's fair to wonder if his history with injuries has taken its toll on what was once a promising career. 

Matt Colburn, a talented runner, receiver, and returner, who most recently played for the New York Guardians in the XFL, has a ton of talent and was very productive in college at Wake Forest. (had two games where he rushed for over 230 yards each). Colburn's ability as a returner could aid him in his quest to make Toronto's roster. Greg McCrae, a recent pickup by the Double Blue, has some juice on special teams and will need to impress there to have a shot. 

Fullbacks: Declan Cross, Asnnel Robo, Dion Pellerin, Sam Baker & Liam O' Brien
Declan Cross is a great leader as a blocker and in the locker room. It's his job to lose. The rest of the players at fullback for the Double Blue are projects.  Dion Pellerin, the Canadian national, drafted in the fifth-round pick of the CFL Draft by the Boatmen, has some capability and a track record as a runner/receiver. Pellerin was named an Ontario University Athletics All-star, rushing for 1,090 yards and 12 touchdowns as a senior. 

Another Canadian national drafted by Toronto in 2020 to play fullback is Sam Baker. The former high school track star out of the University of Saskatchewan has some upside but is more of a project than Pellerin. Robo, a global player, was drafted by Montreal back in 2019. He has some experience playing in the CFL, albeit in a limited capacity. (3 games in 2019). 

Wide Receivers/Slotbacks: Eric Rogers, Ricky Collins Jr, DaVaris Daniels, Juwan Brescacin, Dejon Brissett, Llevi Noel, Terrell Sinkfield, Kendall Wright, Chandler Worthy, Martavis Bryant, Daniel Braverman, Dres Anderson, Geremy Davis, Keyarris Garrett, Damien Jeanpiere, Kurleigh Gittens Jr, Tommy Nield, Nyquan Murray, Greg Rucker & Jaylen Smith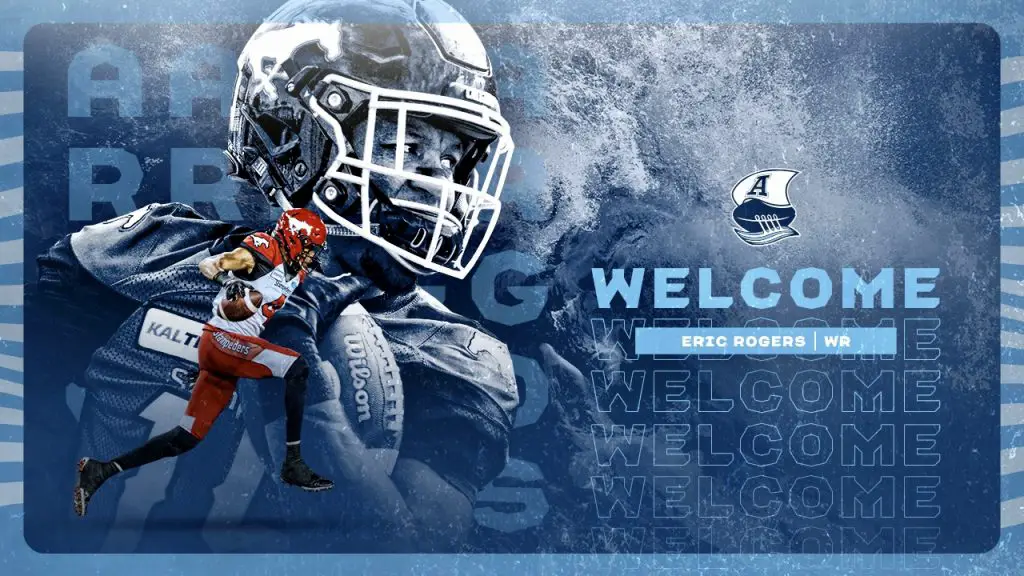 The WR/SB spot is one of the deepest positions on Toronto's roster and has arguably the most upside on the team.
The team's most significant addition at receiver in this extended offseason is CFL All-Star Eric Rogers. The 6'3 215, Rogers is one of the CFL's most physical receivers and best red-zone threats. Rogers is coming off a 2019 season with Calgary, where he caught 85 passes for 1,080 yards and 10 touchdowns. 

Having someone in Ryan Dinwiddie's offense who has experience playing in the system and with quarterback Nick Arbuckle is a big asset for Toronto, especially in the early going of a truncated season, where there figures to be a learning curve for many of the players. 

Rogers isn't the only player playing Slotback who has familiarity with the Double Blue's coaching staff on offense. Ricky Collins Jr., the newly minted Argos receiver, reunites with his former receivers coach Markus Howell from their time together in BC. Collins is an ascending player, and his ascent started in BC; in 2019, Collins broke out for Edmonton, catching 78 passes for 1,103 yards and three scores. 

Both Rogers and Collins, a formidable duo, figure to start at SB for Toronto this coming season. Juwan Brescasin will also compete for playing time at slotback. The highlight reel receiver has always displayed flashes of brilliance, but he has had issues staying healthy. However, like Eric Rogers, Brescasin comes over from Calgary, having worked with Ryan Dinwiddie in the past. An element that could play into Brescacsin's favor. 

With the SB position solidified for the Boatmen. The question is, who will be handling the outside receiver spots in the Argos offense. 

DaVaris Daniels seems like a safe bet to start at one spot; again, like his fellow mates at receiver, Daniels's experience in Calgary will assist him and the offense in the early going. Daniels was last with Edmonton in 2019 and reunites with teammate Ricky Collins. Daniels, the former Notre Dame product, has been a steady and reliable complementary weapon in the passing game throughout his CFL career. With Toronto, there is a chance that he could see more targets than he has in the past.

Two of the more intriguing American-based players on Toronto's roster are Kendall Wright and Martavis Bryant. Both receivers are opposites but bring to the table a lot from a talent and production standpoint.

Wright, 31, the former Baylor standout and first-round pick of the Tennessee Titans in 2012, has six years of NFL playing experience with 339 career receptions under his belt. A possession receiver, Wright's best season in the NFL came in 2013, where he caught 94 balls for 1,079 yards. So Wright has proven that he can play at the highest level in college and the NFL. However, at his age and time away from the game. (Last regular-season action in 2018 with the Chicago Bears) there are doubts about how quickly he can adapt to the Canadian game as a rookie.

Martavis Bryant has always been one of the most physically gifted wide receivers on the planet. The big-play former fourth-round pick by the Pittsburgh Steelers out of Clemson has never lived up to his immense potential on or off the field. Bryant has Randy Moss-type talent, Martavis has the size at 6'4, and elite speed to beat defenses down the field, and the leaping ability to catch balls in the air with the greatest of ease, but his life as a professional has been anything but easy. Bryant has been suspended several times by the NFL for drug use. 

At 29 years old, this could be Bryant's last chance to mature and maximize his potential. You can't bring baggage into the CFL and hope to prosper. So there is reason to doubt Bryant's commitment level and motivations. Until he proves otherwise, the shadow of uncertainty will remain.  
Toronto has high hopes for 2020 first-round pick Dejon Brissett. In this crowded WR room, it might take some time for the now 2-year rookie to gain his footing, but there is certainly a lot of potential with the former Virginia/Richmond player out of Ontario. Brissett may have to make his bones as a returner in 2021, where he does have some experience, returning a kickoff for a touchdown in college. 

Two veteran CFL receivers on the back end of the Argos depth chart who have bounced around the league on several different teams are Terrell Sinkfield and Chandler Worthy. Save for a brief hiccup several seasons ago where Sinkfield broke out in 2015 for the Hamilton Tiger-Cats with a 1,000-yard campaign, he's spent most of his career tantalizing multiple teams in the NFL and CFL with his talents but always landing on the outside looking in or on the back end of depth charts. 

Chandler Worthy started some games for the Argos back in 2019 (three) and held his own in limited duty (12-129-2tds), but he hasn't been able to become a long-term regular fixture on CFL offenses. Like Sinkfield, Worthy may have to provide value on special teams to stick in 2021. 

Llevi Noel is one of the CFL's very best special teams players (21 tackles in 2019) and, based on that trait alone, could find his way back on the teams' roster this season. Noel has shown flashes on offense in limited duty and is fully capable of starting on the outside, but this will be a tough rotation for him to emerge from. 

Daniel Braverman, the former 7th round pick of the Chicago Bears, hasn't lived up to the great potential he showed as a first-team All-MAC player at Western Michigan since declaring pro as a junior. And it's mostly been because of a lack of opportunities and injuries. Braverman is a long shot with the Boatmen, but he's someone who could impress with his route running skills and hands, however with a limited camp and no preseason games. The odds are against him braving the summer and making Toronto's roster. 

Offensive Linemen: Dariusz Bladek, Philip Blake, Cody Speller, Shane Richards, Isiah Cage, Jamal Campbell, Theren Churchill, Maurice Simba, Dejon Allen, Peter NiCastro, Jalen Burks, Quinn Smith, Dylan Giffen & Eric Starczala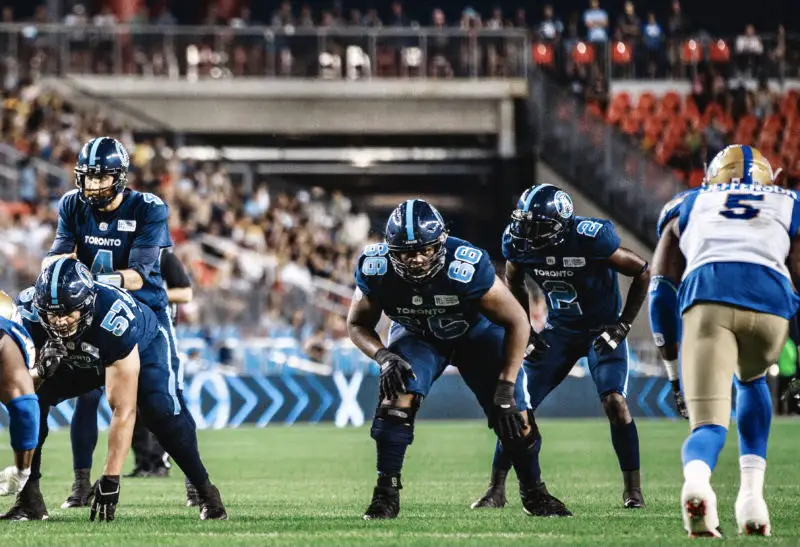 The Toronto Argonauts offensive line is one of the most polarizing areas of the team. Many pundits and fans see this area as a problem spot but very quietly and with much less fanfare, the Boatmen have improved this entire group since the 2019 season ended, and there's reason to believe that the Double Blue's group on the offensive line will be greater as a whole than the sum of its parts. 

On the veteran side, three players who could improve the Argos interior greatly in 2021 are an unheralded group in Dariusz Bladek, Phillip Blake, and Cody Speller. Bladek and Speller are two quality veterans that the Argos have acquired to bolster the team. Both players are tough and smart with quality starting experience. Speller acquired through trade earlier this year could be Toronto's opening day starter on the pivot. 

Toronto native Philip Blake may be a bit long in the tooth at 35 years of age, but he has developed really well into a quality interior player in Canada. The former fourth-round pick of the Denver Broncos teams up with Saskatchewan teammate Bladek and his former offensive coordinator with the Riders, Stephen McAdoo. There is no doubt that the Argos returning line coach had a large say in getting some of his soldiers onto his line upfront in 2021.  

A player that is under the radar for most CFL fans is offensive tackle, Isiah Cage. The 6'5  small school player out of Wisconsin-Eau Claire is a diamond in the rough with great potential. Cage has started 11 games the last two seasons and has held up really well on the outside, using his length and athleticism to ward off elite pass rushers. An injury in August of 2019 limited Cage to only seven games, but his performance on the field gives Toronto hope that they already have an elite blindside protector firmly in their trenches.

The big question mark with Toronto is who will be starting at the right tackle spot. Provided that he stays healthy, 2019 first overall pick Shane Richards could push and usurp Jamal Campbell as the team's starter. It's go time for the 6'8, 325-pound mauler out of Oklahoma State; Richards has the tools to be a dominant force; he needs to work on his conditioning and stay healthy. 

Jamal Campbell has the athleticism to be an effective swing tackle and has experience playing tight end in the past. At 292 pounds, he is nimble-footed, but his lack of consistency in finishing blocks has always been a hindrance. Campbell has to step up his game to remain a starter moving forward. 

Theren Churchill, the Argos first-round pick in the 2020 CFL Draft, shares similar traits with Jamal Campbell. Churchill has the athletic ability to factor in on the blindside in the future. Maurice Simba has limited experience in the CFL, but he projects as a potential swingman on the Boatmen's offensive line.

The Argonauts went to the well again in this past April's draft, selecting University of Calgary standout Peter NiCastro seventh overall. The Canada West All-Star, NiCastro, has great upside because of his combination of polished technique, toughness, and athleticism. Toronto's front office sees great potential in him. Will the future come sooner than anticipated for him. 

An American player on Toronto's roster who has position flexibility as a guard and tackle is Dejon Allen. The former All-Mount West player and offensive MVP for Hawaii at left tackle started 49 games in college and only allowed one sack. Allen most recently played in the XFL with the New York Guardians. Because of his lack of length and prototypical pro size at 6'2. Pro teams have struggled to find a spot for him, but in the CFL, Allen's skill set could be an asset. 

Final Summary
Typically, franchises coming off of four-win seasons benefit from being under the radar. As a result, they are positioned to exceed expectations operating from a position with less pressure. 

The Toronto Argonauts in 2021 do not have this luxury. Based on their high-profile moves, the Double Blue is expected to play meaningful games this year and potentially challenge for a playoff spot. 

The Argos offense, which is much improved on paper,  will ultimately make or break their 2021 hopes and lofty expectations. 

Every team in the CFL will be on an even playing field in terms of preparation time with the lack of a full training camp and no preseason games. But Toronto could have one of the most challenging learning curves early on because of their massive roster overhaul and the number of new coaches and players working together for the first time. 

Having coaches and players with prior experience of working with one another, as detailed in this preview, will greatly assist the process.
Still, ultimately, the Argonauts' dream of returning to relevancy will fall squarely on the shoulders of first-year head coach Ryan Dinwiddie and his chosen quarterback Nick Arbuckle. If Arbuckle buckles under the pressure of the team's expectations, Dinwiddie's offense and his regime will start on the wrong note.

Rightly or wrongly, the 2021 season for Toronto is a swim or sink proposition. And it will be their offense that dictates that result. 
Subscribe to our
CFL News Hub YouTube Channel
. Get breaking news and the latest CFL news. Plus the CFL Week In Review Podcast.
---