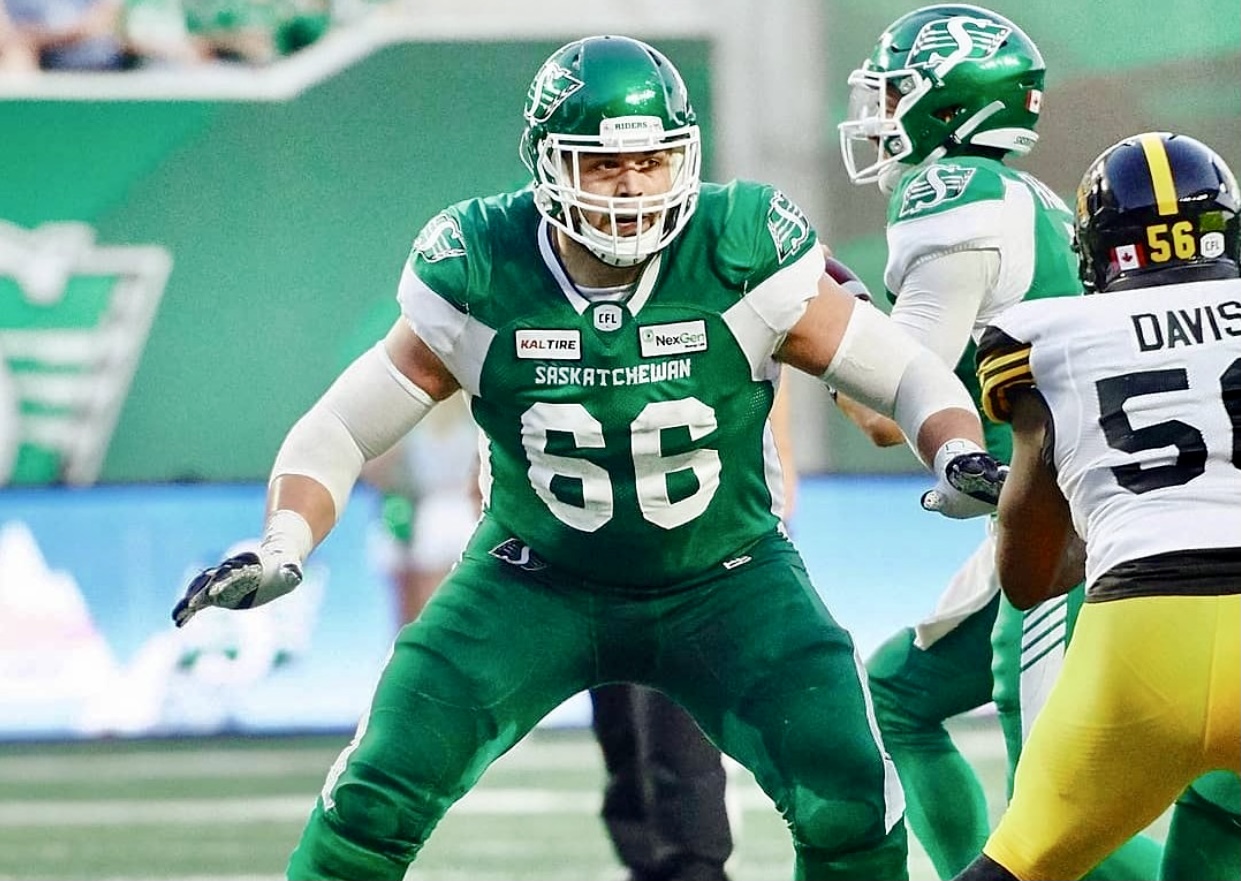 Exclusive 1-on-1 Q&A with Toronto Argonauts offensive linemen Dariusz Bladek as he details his journey back to playing in the CFL for the Toronto Argonauts.
On February 11th, 2020, Dariusz Bladek signed a contract to play for the Toronto Argonauts. It was a big career decision for Bladek, making a jump to the Argos in free agency after spending his entire CFL career with the team that drafted him, the Saskatchewan Roughriders. But little did Bladek know how much his career, life, and the world would change in the coming weeks.
In the weeks that followed Bladek's signing, the entire 2020 CFL season would be canceled due to the COVID-19 pandemic. The uncertainty of when and if the league would return forced many players like Dariusz Bladek to make pivotal life decisions and move forward with the possibility that they wouldn't be returning to the CFL.
After my contract was finished with Argos, I went out to Dallas, Texas, to train with Duke Manyweather for about 6 weeks and try my shot at NFL. When nothing concrete came out of that, I decided to resign with the Argos. But with no sign of bonuses, that meant that I had to continue to work a regular job and work I did for the next several months.

Toronto Argonauts OL Darius Bladek on his time away from the CFL when their 2020 season was canceled.
While players like Dariusz Bladek were planning for a future outside the CFL, the Toronto Argonauts kept making moves to revamp their roster. The players like Bladek, who were signed after the 2019 season ended, are transactions that have long since been forgotten because they happened so long ago. Bladek's initial contract with Toronto expired for the 2020 season, but he resigned with the team in Late December of 2020.
The Toronto Argonauts have undergone a dramatic roster transformation from the last time they took the field in 2019. And just days away from the start of training camp, Toronto continues to sign premium players like LB/S Dexter McCoil and WR Ricky Collins Jr. Couple those signings with two of the most significant acquisitions by any CFL team since the league last played, in linebackers Henoc Muamba and Cameron Judge. And it's easy to see how all of the other moves made by the Argonauts since early 2020 have flown under the radar.
Of all the high-profile moves made by the Double Blue, an area that has been overlooked because of the lengthy delay between seasons is the improvements made to the trenches of their offensive line. In particular, the signing of one of the CFL's best self-made interior players in Guard Dariusz Bladek.
Bladek played 45 games over three seasons for Saskatchewan before signing with Toronto; 11 in 2019, 16 in 2018, and 18 in 2017. The 2017 second-round pick, one of the CFL's very best run blockers, helped the Riders lead the league in rushing touchdowns in 2019 (26) and top the CFL in rushing yards in 2018 (2,429). Born in New Jersey, the Bethune-Cookman alum became a Canadian citizen in 2016.
Along with the veteran acquisitions of Philip Blake and Cody Speller, Bladek is projected to start at right guard for the Boatmen alongside the newly formed trio in the trenches. All three players are versatile enough to play centre or guard in the Argos offence.
CFL NewsHub caught up with Dariusz Bladek for an exclusive one-on-one interview as he prepares for what will be a unique season for him and his new Toronto Argonauts teammates starting on August 7th in Calgary.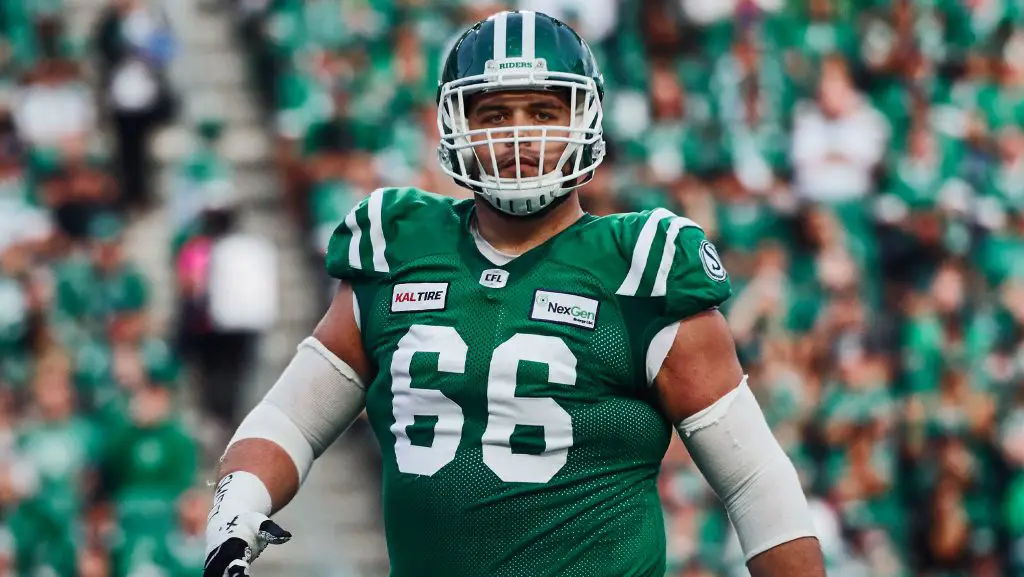 CFL Newshub: What have the last two years been like for you as a person and player?
Dariusz Bladek: The last 2 years for me have been rough like most guys in the CFL. At 1st, when Covid came around, I never thought that it would be able to cancel the season; even when they postponed it, I was still very confident that we were going to play but maybe a shorter season. It did get to a point, though, that after several postponed dates, I decided to start working.
I was up in Atlanta working at Jersey Mike's Subs restaurants with my dad. We did full remodels. I think we did almost 14 stores and would finish 2 fully models each week. (* Remodelers perform remodel work of all types on commercial and residential property, including painting, installing plumbing fixtures, and general carpentry tasks.)
DB: No joke, My dad and I worked at least 60 plus hours a week and sometimes even 70 plus. While the whole time, I was still waiting to hear if the season was going to be canceled, so after work, I would go and train in fear of not being ready. To be honest, it was brutal on my body. There wasn't even time for rest and recovery. I found myself many nights with less than 4 to 5 hours of sleep.
Eventually, as we all know, the CFL canceled the season, and I was able to focus more on work because, honestly, my body couldn't take the long hours in the gym and at work. Outside of the casual lift and cardio, a lot of my focus was on work.
After my contract was finished with Argos, I went out to Dallas, Texas, to train with Duke Manyweather for about 6 weeks and try my shot at NFL. When nothing concrete came out of that, I decided to resign with the Argos. But with no sign of bonuses, that meant that I had to continue to work a regular job and work I did for the next several months.
I worked with my father on countless jobs and many hours, all while finding time to train sometimes to 1 am or 2 am in the morning just to wake up around 7 am to got to work. It was really tough on my body, especially since the weights and the field aspect ramped up more and more. The Maintenance on my body became harder but with all that being said, I know it's a lot. I wouldn't have wanted to work with anyone else but my dad.
I've always been close to my father and family but to share in the countless hours with each other and work in the way we did. It's made us even closer than we were before, and for that, I'm thankful. It's not only for the work and money that came with it but the memories and times that we shared.
CN: How excited are you about the upcoming CFL season, and have you communicated with teammates and coaches during the time away?
DB: Being excited would be an understatement. We are in quarantine now and there are very few times that we get to see teammates but when the opportunity has presented itself. I've introduced myself to new teammates and coaches as well as talking to a lot of players and coaches that I have worked with in the past. To be honest, just really ready to go to the field and get to work with them and get this show on the road to bring the Grey Cup back to Toronto!
CN: Was there anything or anyone that influenced your decision in choosing to play for the Toronto Argonauts?
DB: The decision to join the Argos was personal for me on many levels. I have a lot of family on the East Coast and especially in New Jersey and New York. That was a big sell for me. The next big reason is that I thought this was the perfect fit and what I'm trying to accomplish personally. It also helped that John Murphy, the GM, drafted me, and we have a great relationship. He is not the only one, though. My line coach (McAdoo) was my offensive coordinator in Saskatchewan, and I've played under coaches like J-Jack (Argos offensive coordinator Jarious Jackson) and Markus Howell (Argos pass game coordinator/receivers coach). The last thing would be, I believed in Pinball and coach Dinwiddie and what they envisioned for the team. I truly believe we will prove many people wrong coming off of a 4 and 14 record.
CN: As a Canadian citizen, originally born in New Jersey and raised in Florida, how has the transition in Canada been for you?
DB: Yeah, I know that the story is a little bit crazy, but I've transitioned great, and I love Canada, and I think that I started out in an awesome place with Saskatchewan. Not only because of some of the vets that I have had the honour of playing with over there. They really taught me the way and gave me a real understanding of a lot of the game, how beautiful the Providence of Saskatchewan is, and the history of the CFL across this country.
Even outside the locker room, I made many personal connections with fans who became close friends with my family. Those two things really made it easy for me to make it my 2nd home. I take great pride being a national not only because of a roster spot but because it's in my blood, and just like my mother, I'm a proud Canadian
CN: What are some of the most notable differences between the Canadian and American games, and what adjustments did you have to make in the trenches to transition to playing in the CFL?
DB: I was just discussing this with a rookie today, haha. I think the obvious differences are the size of the field and how quick the play clock is, and how quick the game is overall. No lead is really safe in the CFL.
Now I think the personal adjustment is a little bit different depending on what position you play. For me, it was the patience needed because of the extra yard of separation at the line in Canada.
A lot of times, down in the States, when you snap off the ball, contact with the defender was right there, and the spacing was a lot smaller for the angles and depth. In the CFL, that yard creates a different dimension. Your levels with your fellow oline really matter, and the time until contact can feel like forever in the beginning. Most really good dlinemen have two moves they can pre-determine depending on how you play them. There is enough time to set it up, unlike in the States, where that window is much smaller. That took time for me to get used to, but once you get the hang of it, it becomes natural.
CN: What are your thoughts on the possibility of the XFL and CFL potentially working together and collaborating in the future?
DB: I've seen a lot of those talks on multiple websites and news outlets. To be completely honest, if it weren't for The Rock having love for the CFL game, I would dismiss it altogether.
The CFL has an amazing history and has survived many obstacles over the years. I believe in the product, and I believe in the players. With that being said, If there were a way to combine both the XFL and CFL markets and bring more money and exposure for players and teams without sacrificing some of the major things that make the CFL so unique and special, Then I would fully support it. Only time will tell, and whatever official statements come out from the XFL and CFL in the coming time, I'll definitely be paying attention.
You can follow Dariusz Bladek on Twitter @_DBladek
Subscribe to our
CFL News Hub YouTube Channel
. Get breaking news and the latest CFL news. Plus the CFL Week In Review Podcast.
---